Spreader Specialties is your one-stop source for spreaders for organic farms, poultry operations, row-crops, dairies, orchards, and vineyards. We maintain specialty inventory optimized for the demands of multiple growing environments, including spreaders tailored for tight rows. Our spreaders have the precision and power for post-emergent spreading needs and precision agriculture applications.
BBI Sniper is engineered for application widths up to 120 feet, and uses patent pending technology to rapidly adjust its spread pattern on-the-fly.
The interchangeable spinner platform allows you to have one spreader body with the versatility of MagnaSpread and the industry-leading 120 foot urea application of Javelin.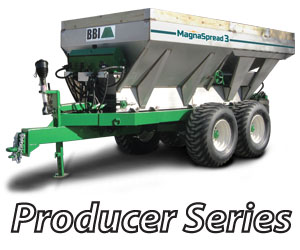 With BBI's patented multi-bin technology, the MagnaSpread3 Pull-Type or Truck-Mount features three hoppers guided by independent variable-rate technology. MagnaSpread3 offers the most sophisticated multi-nutrient application on the market.
Efficiency and value define BBI's granular fertilizer and lime spreader optimized for precision agriculture. The industry leader in cost-in-use, MagnaSpread throws material in flat-spread patterns at up to 90-foot swaths!
Tough and versatile, Endurance is BBI's litter spreader designed to deliver a variety of organic materials, including poultry litter, manure, and organics. Fully-customizable to multiple application needs, Endurance brings industry-leading cost-in-use efficiency to your field operations.
Sometimes you need a spreader for medium-sized jobs, and BBI's Liberty gives you the freedom to execute with efficiency and value in the field. This medium-capacity line of ground-wheel-drive fertilizer and lime spreaders features PTO and hydraulic spinner systems.